How Gapseal Fills Sash Window Gaps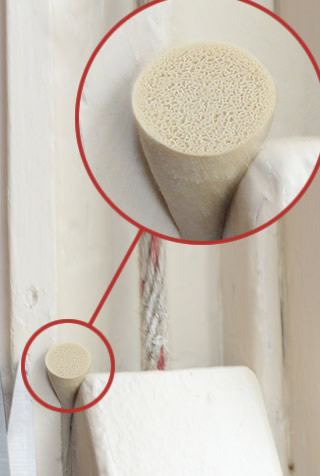 Gapseal has been cleverly manufactured with thousands of concealed air pockets which allows the sealant to be compressed by almost 90% of its original profile. These flexible properties allow Gapseal to be compressed into window gaps much smaller than its original form by stretching it during the installation process. Once the window seal is in the gap it will expand until it fills the width of the gap.
Sash Windows have to slide in the frame which often causes traditional seals that stick to the sides of the window or frame to get ripped off when the window is used. Sash windows are usually constructed from wood which means they expand and contract throughout the year.
These characteristics cause alternative methods such as scrunched up newspaper to fall out or absorb moisture leading to rotting and discolouration. Gapseal can be easily removed in the springtime when the window is opened again and will mimic the movement pattern of the timber remaining in place retaining insulation.
Great Results for Varying Gaps
Gapseal can also be used successfully for distorted windows, for which the traditional self-adhesive window seal is not suitable.
Our window seal on the other hand has the flexibility to cover gaps from 2 to 7mm on the same window thanks to its unique flexible properties as shown on the left.
Gapseal's Intellectual Property Right is protected. Patent Pending
Buy Gapseal Now
Gapseal is available in 10m rolls and each order is supplied with a FREE application tool.